Presenting "In Search of the Real Greece 2021," an extraordinary holistic photographic experience dedicated to developing your vision as an artist, exploring Santorini, rarely seen Anafi and either untouched Thirasia or dynamic Ios. Now in it's fifteenth year!
"In Search of the Real Greece 2021" -Santorini, Thirasia/Ios & Anafi- (9/11/21-9/19/21) - Cancelled due to COVID!
Dates (September 11th to September 19th)
Maximum students: 5-7
Level: Open
Itinerary: Santorini - Anafi + either Thirasia or Ios
Purchase Workshop Online
:
(secure online payment through PayPal)
In Search of the 'Real Greece' 2021 - Kyklades (9/11/21 - 9/19/21) - Cancelled due to COVID!

Sunrise accommodation - $2900. Santorini/Thirasia-Ios/Anafi

ASMP Member's 10% Discount - Verificaton Needed

$2900 US

$2000 US
We will tour beautiful Santorini, untouched Thirasia and splendid, rarely visited Anafi "In Search of the Real Greece."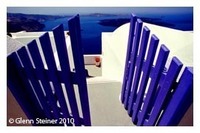 We start in mystic Santorini.
Rising with the sun, we'll chase "to fos ellinikos," the Greek light, as it wraps around blindingly white Cycladic buildings and cerulean harbors filled with fishing boats of red, blue and green.
We'll follow old Greek women shrouded in black and old Greek men riding their donkeys down cascades of marbled stairs. We shall seek out little know villages, where Greeks have thrived, prayed, laughed and danced for centuries.
We'll watch the sun set into the Aegean sea. Later, we'll explore the clubs and tavernas, and burn the midnight oil.
At week's end, we shall journey by ferry to magical Anafi.
Those of Anafi embrace the life traditional in the world Hellenic. Tourists and photographers are still looked at as a curiosity. Anafi, some twenty odd miles southeast is a vision of Santorini from fifty years ago before the onslaught of tourism.
Our days will be filled with shooting in secret little hideaways that I have discovered in my twenty years of Greek travels.
At workshop's end, we will ferry back to Santorini for a final day of shooting, critique, dancing and celebration.
All photographic medias, film or digital, are welcome. We will have midweek lectures in Photoshop CC including final critiques of workshop photography. Night photography is encouraged, but only balanced with nocturnal explorations of the kafenions and tavernas.
Lodging, continental breakfast, and transportation between and within Santorini/Thirasia/Anafi are included.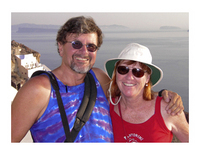 Glenn Steiner - (Glennsteiner.com) Award-winning Pro Photographer, Teacher + Greek Expert
Rose Steiner - (Rosesteiner.com) Nationally renown Image Maker: Muralist, Painter, Printmaker + Photographer
Within the Greek Island Workshops, Glenn and Rose bring an encyclopedic knowledge of Greece and love of the Greek Isles. Glenn has explored over sixty-two (62!) islands within the past twenty-five years.
Glenn is an award-winning assignment and studio photographer based in San Francisco since 1977. (http://glennsteiner.com) Glenn has been shooting and processing digital full time since 1999.
The Greek Island Workshops present a balanced philosophy of shooting, technical learning, and insightful critique. Glenn teaches best on location, balanced with classroom demonstations of Adobe Photoshop CC, Adobe Bridge, and Adobe Lightroom.
The amateur artist takes a photograph, but a professional makes a photograph. Glenn will help guide you how to conceptualize and realise your photograph. By workshop's end, you will find yourself shooting not only less shots, but finer ones than you had ever thought possible.
Glenn has found that it is this difference between taking and making, the learning of how to "engineer" one's photography for success, that lifts the superior artist to works of inspiration.
Greece has been Glenn's and Rose's home for more than three years total of the past twenty-four. In their explorations, the Steiners have researched and discovered many out-of-the-ordinary, exciting places to shoot whilst writing for travel guides and travel magazines.
Glenn and Rose promise to share a vision of the real Greece with you, rarely seen, seldom photographed. Unlike many workshop operators, the Steiners read and write Greek passably well, and have developed many friends who live on the Greek islands.
Glenn, a member of National Association of Photoshop Professionals, regularly studies with NAPP and Adobe to keep abreast of the latest insights and techniques within Adobe Photoshop CC. Glenn is a 41 year 'lifetime' member of the American Society of Media Photographers (http://Asmpnorcal.org) and former President of ASMP/NorCal. Glenn has served on the NorCal advisory board helping young photographers hone their craft for over ten years.
Inspiration
"Δεν ελπιζουμαι τιποτα. Δεν φοβουμαι τιποτα. Ειμαι ελευθερος."
" I hope for nothing. I fear nothing. I am free."
-Nikos Kazantzakis PhD, Greek scholar and author of Zorba the Greek
The student should plan to arrive the day before the workshop begins. We can help provide lodging for that night.
For the next eight days, we rise with the sun's first rays to shoot the morning's light. We have a mid morning breakfast and shoot until lunch.
After lunch, we break to recharge our creative batteries, following the "mikro hypno" or siesta within the Greek culture. More often than not, we will also download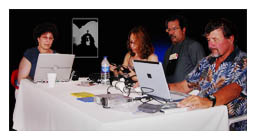 and review our latest work, recharging our camera batteries as well.
We shoot from late afternoon to daylight's end.
Then, we will all enjoy dinner at one of Santorini's world famous traditional tavernas.
Most of the Greek Island Workshops have two review periods, at the middle and at workshops' end. This critique is an essential part of your journey.
Glenn often uses a high definition digital projector and/or a color corrected monitor to demonstrate the powers of Adobe Bridge, and the flexibility of the RAW digital negative format. When there is mandate from the participants, Glenn will share his post-production techniques in the new Photoshop CC and/or Adobe Lightroom.
What You Will Need
Rose and I advocate the travel light philosophy, where less is more.
Students are encouraged to bring their own digital or traditional camera and their favorite lenses.

Film is not available on Santorini for traditional analog photographers. Bring your own.

A lightweight notebook computer (or multimedia storage device) is absolutely necessary to store and to review your digital work.